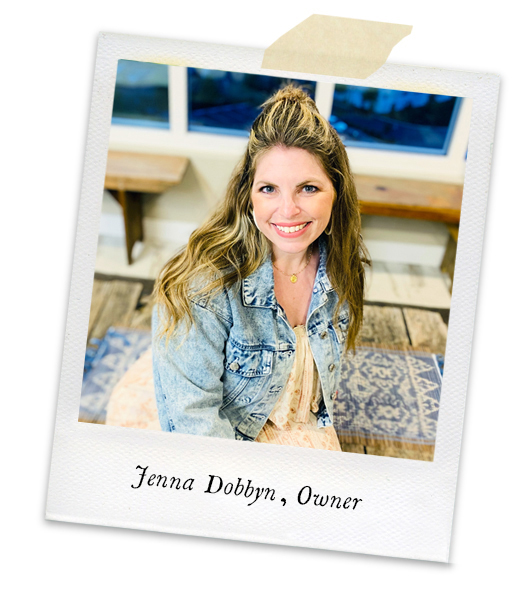 Our story
Located in the heart of Chester Springs, Pennsylvania, The Iron Bird was founded by Jenna Riberio, an upcycler and designer who also dabbles in woodworking. Jenna was born and raised in Chester County, PA and values locally made products as well as giving others the opportunity to build a business for themselves. At The Iron Bird, you will find expertly crafted furniture, jewelry, unique decor for every home, gorgeous throw pillows and textiles, local foods, candles, antiques, stationery, fine art, curated and handmade clothing, gifts, and much more.
Alongside a small selection of artisan vendors, we are a micro team of curators and creatives who inspire, share, celebrate, and who will help you decorate your home or find that perfect gift. Extraordinary women pay attention to the details of their work, and we hope to nourish the soul with an experience that's tactile, visceral, and inspirational. Transport yourself to a unique and elegant world focused on you and your creative identity.
What we do
The Iron Bird is curator of all things beautiful to inspire the creative home and self. Our goal is to connect the wonderful work of local artisans and designers directly to our customers. The Tin Corbel brand, for example, specializes in vintage, re-purposed, and salvaged materials, and provides exclusive furniture design and distinctive hand-crafted quality. Made in USA is important to many of the brands in the Iron Bird shop. Iron Bird is also a curator of various antiques and vintage that fit our aesthetic of quality, ease, and timeless style. We have tested every candle, carefully selected every book, journal, and even made sure that all of our general store items meet our standards. We've curated every piece of artwork, and personally crafted the dining tables—and several other pieces of custom furniture—from scratch.
A unique, local perspective
The Iron Bird brings a unique perspective to the world of interior design and personal goods. Jenna's advanced knowledge of craftsmanship and furniture design, and her artisans design and art backgrounds make for the perfect team. Join us for our monthly Sip & Shop events where we stay open until 9 PM or even mark your calendars for our bigger events like our Artisan Markets that occur in Spring/Summer and our Christmas Village in December. All our events are located on our company's Facebook and Instragram pages. There is always something new and any day is a great day to treat yourself to a world-class shopping experience. We love hearing from our customers so please reach out anytime with ideas or feedback: [email protected]. We hope you stop by the shop to say hello and get inspired very soon.
Things we love
(yep, they are in store)
Photography by Lisa Godfrey and Liz Zulli